New Look Personal Injury Claims Guide – How To Claim Compensation For An Accident In New Look?
If you have been injured in New Look, no matter whether you were working there or you were simply browsing, and the accident that you were involved in was preventable you may have grounds to pursue a personal injury claim for any suffering. Here at Legal Expert, we have helped many people to get the compensation that they deserve when they have experienced store negligence. If you are thinking of making a personal injury claim for you accident leading to injury at New Look, all you need to do is call us on 0800 073 8804. But before you do so, continue reading to gather more information that you may need.
Select A Section
A Guide To Personal Injury Claims Against New Look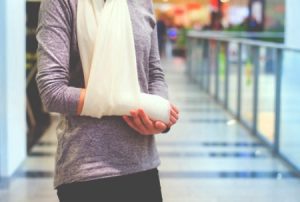 New Look was founded in 1969. It has been owned by Brait SA, a renowned investment company, since 2015. The British global retailer has more than 1,100 locations, with the headquarters in Dorset. In this guide, we will try to answer your questions if you have suffered an injury while shopping or working at New look. This includes: can I claim for an accident in New Look? What should I do if I am injured in a shop accident? Aside from this, we will reveal how the claim process works, how much compensation you may receive, and much more. If you still have any questions at the end, please do not hesitate to give us a call.
What Is An Accident In A Branch Of New Look?
This refers to any sort of accident at New Look that was not your fault that has subsequently caused an injury. This could be an accident to a customer or a worker or someone delivering stock there, or even another contractor on the premises. In order for the accident and injury to be eligible for compensation the incident must have arose due to a breach of duty of care that New Look owed.
Health And Safety In The Retail Industry
All retailers, New Look included, owe their employees and customers a duty of care. This means that they need to take reasonable steps to guarantee health and safety across all of their stores. If they breach this duty of care and a customer or staff alike suffers an injury due to the negligence in question they may be liable for the injuries suffered
Examples Of Retail Accidents
There are different types of accidents and injuries that could potentially happen in any retail store. Below, we will take a look at some examples. Do not fret if you cannot see the type of accident you have been involved in you could simply call us and we could tell you straight away if you have grounds for a compensation claim.
Slips due to a wet floor that has been mopped but no warning signs out to show of the hazard.
Poorly stacked shelves or display units could potentially cause injuries if items fall onto a shopper or even an employee.
If walkways or isles in shops are not kept clear, or if items that fall down are not picked up these could potentially cause trip hazards.
If retailers premises continue outside for example a car park they also have a duty of care to ensure this area is also safe for customers and staff to use. Potholes or broken pavements slabs could cause people to fall and injure themselves.
I Slipped While Shopping In New Look Can I Claim?
Slips in retail shops could be caused due to a mopped floor especially if there are no visible wet floor signs, clothing or other items that have fallen on the floor or spillages that have not been cleaned up. There are different types of legislation that must be adhered to these include:
It is vital that retail shops implement procedures to protect both staff and customers from injuring themselves while on their premises.
If you have suffered an injury while shopping or working at New Look that you feel was due to negligence on the part of the store call Legal Expert today to see if you are eligible to pursue a claim.
Could I Claim For A Workplace Accident At New Look?
Implementing and adhering to health and safety guidelines at any business is of paramount importance, to reduce any risks of staff becoming harmed. It is vital that health and safety instructions are given so that potential risks are avoided. If you have been involved in a workplace accident while working at New Look and you believe your employer has acted in a negligent way, you could be entitled to damages.
Do I run the risk of being sacked if I make a claim against my employer?
No. This is something you do not need to worry about, so long as you handle everything properly and in a professional manner. If your employer was to fire you for making a work place accident claim they could  put themselves in an even worse position, as you could have grounds for unfair dismissal.
Should I tell my employer about the claim?
It is vital to you tell your employer about the incident that occurred. All employers are required to have an accident book by law. Your employer will need to report the incident in this so that the incident is logged.
Injuries That Could Be Caused By Collapsing Displays Or Falling Objects
Staff or customers could be injured due to items falling from storage systems (such as racking) in a customer or staff area if staff have not correctly stored the items or the racking is damaged in some way. Items could fall onto people and cause a variety of different injuries. While a lot of these incidents could potentially end up being very minor, some cases could lead to head and brain injuries. If you have been injured due to items falling from shelving or racking systems call Legal Expert who can listen to your case and advise you accordingly.
Manual Handling Accidents
Those working in retail stores engage in an extensive amount of manual handling, which is the support or transportation of a load, either by hand or bodily force. Therefore, this covers everything from pushing and pulling to carrying and lifting. It is vital to handle a load in a safe and correct manner to ensure that you or anyone else in the working environment is not at risk.
One of the biggest risks is picking up a load without testing the weight of it. You must make sure you are comfortably able to lift it first. If you can't manage the load with ease, you should never try to push yourself. Don't look down at the load while carrying it, keep your head up and look in front of you, and make sure you don't lean sideways or twist your back. Your shoulders should be facing the same direction as your hips, and they should be kept level.
Storage Area And Racking Accidents That Could Occur
There are different ways you could be injured in a storage area or warehouse, for example, defective shelving or slips or trips due to debris on the floor, forklift accidents, falling items from shelves, shelving collapses due to too much weight. Risks could arise when individuals utilise unfamiliar equipment without knowing about the safe and correct methods required this could be due to little or no training. There is a number of different handling equipment that could potentially be used, ranging from roll cages to pallet trucks. If you have not received proper training and you have been injured, due to not knowing how to correctly perform a certain task you may have grounds for a work place accident claim. .
Personal Injury Compensation Calculator, A Shop Accident Claim
As all cases are assessed individually, it is impossible to give you a fully accurate figure. However, we advise you to look at cases that have already been made so that you can get an understanding of the average payout. Below are amounts for different types of injuries. If you cannot find the injury you have suffered, please do not hesitate to give us a call. We'd like to point out that this is slightly different to a personal injury claims calculator you might have seen elsewhere. This will also not include special damages, which we look into below.

Type Of Injury
Amounts
Information
Moderate Back Injuries
£10,970 to £34,000
Starting with ligament damage, soft tissue injuries which could cause exacerbation of a pre-existing back condition to a compression or crush injury fracture of the lumbar vertebrae causing constant pain and discomfort.
Moderate Neck Injuries
£6,920 to £33,750
Brackets begin at moderate soft tissue injury, recurring stiffness discomfort and possibly several attempts at surgery to fractures and dislocations and vulnerability for further trauma.
Moderate or minor Injuries to the Elbow
Up to £11,040
A comprise of simple fractures, tennis elbow syndrome and lacerations. The figure is time sensitive so the length of injury will have a bearing on the amount awarded.
Very Minor Wrist Injury
£3,090 to £4,160
Recovery within 12 months, undisplaced or minimally displaced fractures and soft tissue injuries.
Pelvis/Hip Lesser Injuries
Up to £3,460
Minor soft tissue injuries with full recovery expected.
Serious Leg Injuries
£34,370 to £48,080
Serious fractures or serious injuries to joints and ligaments causing instability.
Moderate Ankle Injury
£12,050 to £23,310
Fractures, ligamentous tears and the like which give rise to less serious disabilities.
Minor Injuries
£1,200 to £2,150
Complete recovery within 12 months.
Less Severe Psychiatric
£1,350 to £5,130
Depending of length of disability and affect on daily activities and sleep.
Loss of Income
Example
£20,000
If a victim of a personal injury has a loss of income of £20 000 for example they could include this in their claim.
Could I Claim Other Types Of Damages?
When making a New Look injury claim, your personal injury solicitor will ask about any costs you have incurred due to a direct consequence of the incident. When it comes to your injury, the payout is usually determined by considering the severity of it, the treatment program you need to follow, and the impact it is going to have on your life. In terms of costs, examples range from loss of income and travel expenses to the cost of seeing a therapist and childcare.
No Win No Fee Personal Injury Claims Against New Look
We are a company that is proud to offer free advice. Our helpline is available 24/7. You will speak to an experienced, friendly and efficient advisor who will answer any queries or concerns you may have. They will talk you through the entire claim process and give you a realistic picture regarding your case and the chances of it being a success. We won't lie to you. We will only match you to a no win no fee solicitor from our team if we genuinely think you have grounds for compensation. We won't waste your time, nor ours.
Not only do we solve the expense and hassle associated with traditional personal injury claims by offering free advice, our no win no fee service is also extremely beneficial. We will match you to at personal injury solicitor who specialises in the type of injury you have experienced. Our no win no fee service is highly popular for many different reasons. Firstly, you avoid the large start-up costs that are associated with using a traditional personal injury lawyer, as you don't need to pay anything to begin your claim. You also don't have to pay our fees if the case is unsuccessful. In addition to this, you have the peace of mind that you are benefiting from the best possible service. After all, our solicitors pay is performance related.
If you have suffered a personal injury that was no fault of our own you may be thinking of making a personal injury claim. Allow us to provide free assistance and match you to an excellent no win no fee solicitor who could potentially help you to claim damages for the injury suffered.
How Our Retail Accident Solicitors Could Help You
When you call us, we will explain everything to you. We will provide a free consultation and the solicitor you're matched with could potentially organise a local medical if needed. Our solicitors will aim to launch your New Look personal injury claim and secure compensation as quickly and efficiently as possible. We want you to concentrate on your recovery while your lawyer focuses on getting you the maximum possible payout deserved for your injury.
Speak To Our Team Today
Simply give us a call today on 0800 073 8804 if you have any questions or you are ready to make a claim. You could also leave your details and we will call you back at the earliest opportunity. Or, why not use the live chat feature?
Resources For Retail Accident Claimants
Accidents in manual handling – This guide covers specifics to do with manual handling claims.
General advice on retail store accidents – A more general page of guidance.
Edited By Melissa.