I Slipped In Waitrose Can I Claim Compensation?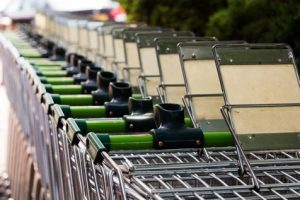 If you have suffered an injury due to a slip trip or fall in a branch of Waitrose or on Waitrose property then you may be able to make a claim. You are eligible to claim if you were a customer shopping in a branch of Waitrose, an employee of Waitrose or another member of the public, perhaps making a delivery to the store for example.
Claims can arise not only from incidents occurring within the shop but also in staff areas, the car park or other areas open to the public. This guide will help you to understand how accidents can happen, what injuries may result and how you can go about claiming the compensation you deserve following your injury.
Legal Expert are committed to helping people who have been injured in a Waitrose supermarket. We offer an initial free consultation to discuss whether you may be eligible to make a claim and will then allocate a specialist solicitor to deal with your case and get you the maximum possible compensation for your injuries. Call Legal Expert today on 0800 073 8804 to find out more.
Select A Section
Waitrose Slip, Trip, And Fall Injury Claims
Did you know that if you have slipped in a Waitrose supermarket then you could be eligible to make a Waitrose accident claim? If you have suffered a personal injury in any Waitrose store in the UK as a result of water or other spillages, obstacles or anything else which was not your fault then you are entitled to receive compensation. Legal Expert can help you make your personal injury claim against Waitrose.
Slip, trip, fall claims are one of the most frequent personal injury claims in the UK with 93,287 hospital admissions occurring in the year 2015/16 as a result. Waitrose slip trip and fall claims can arise whilst you are working on the premises or whilst shopping.
Slips, trips and falls are the most common cause of accident at work claims and often lead to other injuries such as falls from height and incidents with machinery. 18% of non-fatal injuries suffered by employees are caused by slipping, tripping or falling and this type of injury costs UK employers around £50 million annually.
How Do Slip, Trip, And Fall Waitrose Accidents Happen?
If you have slipped in Waitrose then there are a number of things which may have caused this accident. With shelves packed full of items and many shoppers and members of staff moving through the store, there are likely to be breakages and spillages of liquid items now and again. If spillages are not cleared up promptly and efficiently then they present a slipping hazard to workers and members of the public. There is also a risk of slippery floors after cleaning has taken place if surfaces are not dried properly.
As well as liquid items there is a lot of scope for obstacles to be left in the way of shoppers and employees. This can include shopping baskets, boxes and dropped food items. If you suffer an accident whilst shopping as a result of a Waitrose wet floor slip or a fall in Waitrose then you will be eligible to make a Waitrose compensation claim.
If you have slipped in Waitrose it may be nothing to do with a spillage or obstacle but perhaps poor maintenance of the facilities. This can include uneven floors, loose tiles or defects in flooring or the outside surface of a car park or walkway which has not been properly maintained. If this is the reason for your injury then you can make a Waitrose injury claim.
What Injuries Can Your Slip In Waitrose Claim Include?
Depending on the circumstances, if you have slipped in Waitrose you may have sustained a wide variety of different injuries. Some of them may be very mild such as bruising or minor cuts but broken bones are not uncommon. Hips, pelvis, arm and leg injuries are very common when somebody slips and falls. These injuries can be much more serious for an elderly person who may take a longer time to recover and lose a level of confidence and mobility as a result of a broken bone caused by a slip in Waitrose.
Who Can I Claim Compensation From After An Accident In Waitrose?
If you have slipped in Waitrose either as an employee of the company or as a shopper as the result of something that was not your fault but was caused by the shop's negligence, then Waitrose has failed in its duty of care to you. Waitrose has legally responsible for ensuring that its shops provide a safe environment for both workers and visitors. If you have slipped in Waitrose as the result of a spillage and Waitrose have not cleared up this hazard within a reasonable time frame and have failed to indicate the hazard by using signs, then you may be able to make a Waitrose claim. In order to prove the liability of Waitrose you need to be able to show that they failed to cordon off the hazard or resolve the situation within a reasonable time.
This can be tricky to prove. Following a shopping slip trip fall, claims will be more straightforward to make if you immediately alert the shop to what has happened. Waitrose are then responsible for recording the incident in the Waitrose accident report book. Taking this action immediately will strengthen your case as the evidence is still there for witnesses to see.
Waitrose Slip, Trip, And Fall Compensation Calculator
This table gives you an idea of the amount of compensation you may be entitled to if you have slipped in Waitrose. Compensation varies depending on the details of your case so this table is only intended as a guide. For more advice and information we suggest that you call us at Legal Expert so that we can look more closely at the specific details of your case.

| Injury | Severity | Amount | Notes |
| --- | --- | --- | --- |
| Injury to the chest | Moderate | £3,000 | Including injury to soft tissues, serious pain and temporary disability |
| Injury to the neck | Severe | £39,870 to £130,060 | Including fractures, disc damage and permanent disability. |
| Injury to the neck | Moderate | £6,920 to £33,750 | Including dislocated tendons and moderately severe fractures. |
| Injury to the back | Severe | £34,000 to £141,150 | Including fractures of spinal discs and soft tissue damage |
| Injury to the back | Moderate | £10,970 to £34,000 | Including injuries which cause ongoing discomfort and pain. |
| Injury to the legs | Moderate | £24,340 to £34,370 | Including knee damage, muscle wastage and reduced mobility in the joints. |
| Injury to the legs | Severe | £34,370 to £48,080 | More severe leg bone fractures and soft tissue damage |
| Injury to the legs | Moderate | £15,750 to £24,340 | Including fractures where there is no permanent damage |
| Injury to the knee | Severe | £53,000 to £73,125 | Including ongoing problems with the knee joint and development of osteoarthritis |
| Injury to the knee | Severe | £39,625 to £53,000 | Serious fractures involving ongoing discomfort and pain |
| Injury to the foot | Mild | up to £12,050 | Temporary pain and damage |
| Injury to the foot | Moderate | £12,050 to £21,910 | Including loss of normal function which may be temporary or permanent |
| Injury to the foot | Severe | £148,540 to £176,660 | Can be as serious as the complete amputation of both feet |
As well as claiming for the pain and suffering resulting from your injury you may also be able to receive special damages. The aim of special damages is to compensate you for any out of pocket expenses you have incurred as a result of your injuries. This includes loss of earnings, travel expenses, medical expenses and so on. If you have suffered from a Waitrose accident at work or slipped on water in a Waitrose or some other liquid then call Legal Expert today to discuss the types of compensation that you may be able to claim.
Waitrose Injury Case Study
In a previous Waitrose accident claim, a claimant tripped from a very high kerb in a Waitrose owned car park. The light was fading and the hazardous kerb was not very visible. The claimant damaged the cartilage and ruptured ligaments in her ankle and never fully recovered from the injury. A settlement was made out of court for £11,000 as Waitrose was found to have failed in their duty of care to the claimant due to poor lighting in the car park and the absence of a hazard warning sign.
No Win, No Fee Waitrose Slip And Fall Claims
Here at Accident Claims we offer No win, No fee Waitrose compensation. This is also known as a conditional fee agreement. This means that if you are unsuccessful in your Waitrose accident compensation claim then you will not be eligible to pay us a penny. However, if you are successful in your claim then our fee will simply be taken from the final payout. By law we are not allowed to take any more than 25% of your compensation award, this will be detailed further in the contract that you will receive if you decide to proceed with your claim. We guarantee that there will be no upfront costs payable and no hidden fees. At Accident Claims, no win, no fee means just that.
How To Start A Waitrose Compensation Claim
If you are ready to contact us, perhaps for a back injury at work claim, accident at work compensation or because you slipped in a Waitrose supermarket as a customer, then call Accident Claims today. We will do our best to get you the compensation that you deserve. We will also offer as much help and advice as you need throughout your claim. Get in touch with us today and we will allocate a specialist solicitor to your case. You can call Legal Expert today on 0800 073 8801, contact us via our website or use our chat feature.
Useful Links
A Page on the NHS Website dedicated to falls and their effects.
A page on safety when it comes to falls.
The HSE page on this type of accident. You can find more information on statistics and prevention.