Mis Sold Jaguar Land Rover Pension Claims Guide – How To Claim Compensation & Calculate Amounts Payouts
Jaguar Land Rover (JLR) is a large employer with headquarters in Coventry.  With around 40,000 staff employed, the company offers a workplace pension scheme to many of its employees.  Throughout this guide we're going to provide information about what options are available if you've suffered financially because your pension may have been mis sold to you by a financial advisor or you may have transferred your pension on bad advice from an Independent financial advisor. It's important to note here that claims won't be made against JLR themselves but against any financial advisor who's offered poor advice on what to do with your JLR pension.   We'll provide information about when you can seek mis sold Jaguar Land Rover pension compensation and what constitutes as financial mis-selling.
If you already know that you'd like to begin a mis-sold JLR pension claim today, then call Legal Expert on 0800 073 8804 and speak with a pension claim expert.
If you'd rather read more about claiming compensation for bad pension advice, please continue reading this helpful guide.
Select A Section
A Guide To Claiming Compensation For A Mis Sold Jaguar Land Rover Pension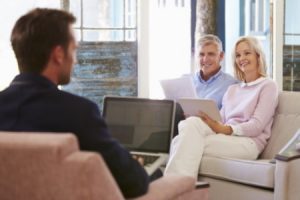 If you're looking for mis-sold JLR pension compensation, then you should find this guide useful.  Here at Legal Expert we offer no win no fee services for almost any claim we help with.  We also offer free, no obligation, consultations to help decide whether you have a good chance of winning compensation for your financial losses.
In this guide we're going to provide mis-selling examples, explain how you may have been mis-sold a pension and we'll also provide a mis sold pension checker.
Although this guide is for employees who are members of the pension scheme provided by Jaguar, any claims will not be made against the company but the company that mis sold your pension. The type of mis selling claims this guide will discuss are those against independent financial advisors or other financial institutions who've offered you bad advice about what to do with your JLR pension.
If you find that, having read this guide, you still have questions remaining, then please call one of our experts.  We offer free legal advice and a free initial consultation where you can ask as many questions as you need to.

What Are Jaguar Land Rover Workplace Pensions And Who Are Entitled To Them?
Workplace pensions are now offered to workers in the UK on an automatic enrollment basis. Anybody who's not already a member of a pension scheme, is over 22 and below pension age, earn more than £10,000 a year and work in the UK should be enrolled in a pension.
Jaguar Land Rover pensions are offered to employees of the company (operated by Jaguar Land Rover Pension Trustees Limited) as well as benefits which protect families if an employee is permanently disabled or dies during their employment with the company.
In the next section, we'll explain what could lead to a mis-sold pension claim.

What Could Be Considered A Mis Sold JLR Pension?
As we've already mentioned, financial mis-selling solicitors won't bring claims against JRL. The claim will be against a financial advisor who provided bad advice about what to do with your pension fund which caused you to suffer an unnecessarily financial loss.
In June 2008, the Financial Conduct Authority (FCA) introduced new regulations regarding the sales of pensions, annuities and related financial products.  These regulations concentrated on ensuring customers are fully informed about any product they're offered.
The new FCA regulations included:
Making sure the client's health history, both past and current, are taken into account.
Ensuring the client is provided with a full range of different products to allow them to make an informed decision.
Telling the client about any product which could be deemed a risky investment product.
Ensuring the client is provided with all of the important details about a product.
We'll provide more advice later in this guide about how you can spot any mis-selling and when you might be entitled to compensation for mis sold Jaguar Land Rover pension.
Remember that these claims are for financial mis-selling which occurred after June 2008.  Anything prior to this will need to be assessed by a financial mis selling solicitor.

What Is The Difference Between A Pension And An Annuity?
Throughout this guide, and whenever you speak to a financial advisor, you'll probably hear about pensions and annuities.  While they might seem similar products, there are differences.
Pensions such as the Jaguar Land Rover employee pensions are paid into by the employee and, in some cases, by the employer too.  The amount of contributions varies depending on the employer and are sometimes linked to the employee's pay scale within the company.
Annuities however are insurance products which can offer a guaranteed income for a set number of years or for the remainder of your life which can be bought from part of your pension. When your pension pot becomes available, you can use it to purchase annuities. Income from annuities is taxable and your pension provider cannot force you to leave money in the pension pot or to buy annuities that they provide. If you take money from your pension pot 25% is tax free. You will pay income tax on 75% of your pension.
However, pension mis-selling could have occurred if you were advised by a financial advisor to buy an annuity when you may have been better to leave the funds in your current pension scheme.

Has My Pension Annuity Been Mis Sold To Me?
To help you further, this checklist can be used to see if you've been mis-sold an annuity.  If you answer yes to any of these questions, then you may be able to make a claim for compensation against whoever advised you inaccurately and incorrectly.
Did the financial advisor fail to tell you about alternative products or alternative providers which could've offered a better deal?
Were you ill or suffering from a medical condition when you purchased the annuity and did the advisor fail to ask about it?
Did the advisor fail to ask about your lifestyle? For instance, did they fail to ask about how much alcohol you drink each week or whether you smoke?
If you've answered yes to any of those questions, please get in touch and speak with our specialist advisors who'll explain your options. If you're unsure whether you've been mis sold or not, don't worry, we can help you once we've assessed your case with you.

What Is A SIPP, And How Could It Be Mis-Sold?
SIPPs, or Self Invested Personal Pensions, are investment wrappers which allow your pension to be invested in a wider range of options than traditional pensions.  However, they do require managing and can mean your pension is invested in riskier and unregulated schemes.
Claiming for mis sold pension SIPP could be possible if your advisor recommended transferring to a SIPP as they mis-informed you it was better than a normal pension scheme, didn't offer any alternative to a SIPP, didn't advise you of the risks or important information, advised you take a SIPP for tax reasons rather than pension reasons or they failed to tell you HMRC could change tax rules at any point.

Claim For Bad Pension Transfer Advice
Transferring a pension to another product doesn't always result in better financial position for the pension owner. Even after Jaguar Land Rovers cut its pensions, moving to another scheme or product could result in financial losses.
You could be entitled to claim if an advisor told you to transfer away from your employer's pension scheme when it would've been better left where it was, failed to tell you about any associated risks, didn't explain about any charges or didn't give you a range of options and did not provide you with the best option for you.
In the next section, we'll provide a more detailed look at signs you've been mis-sold a financial product.

How To Tell If You Have Mis-Sold A Pension Or Other Financial Product
Here are some warning signs that could indicate you've suffered financial mis-selling and could be eligible for mis sold pension compensation:
You were not asked about your personal circumstances.
A financial advisor should always take any personal circumstances into consideration, failure to do this can mean that you invest your pension into the wrong product, scheme, annuity.
You were not given the full range of options.
Under FCA regulations, a financial advisor should explain verbally any important terms and conditions. Once this has been done, you should be provided with a printed copy of all of the terms so that you can make an informed decision. Financial regulations states that financial advisors should give you arrange of options best suited to your personal circumstances.
You were told to move away from your workplace pension.
If your financial advisor advised you to move your money out of your workplace pension as other products offer a better return and this information was false, then this could be deemed bad advice. It's possible that the money would've been better of left where it was and could mean you're entitled to mis sold Jaguar Land Rover pension compensation as you were told to move your employment pension on incorrect advice.
You bought a risky product.
If you explained to your advisor that you didn't want to risk your funds, or only wanted a limited level of risk, and you ended up with a very risk product, you may be able to make a claim. This could be especially true if the advisor didn't explain the risks to you.
Mis leading information. The information in the pack was mis-leading, case studies which were used may have been carefully selected to show untrue returns for the overall investors.
Begin Your Claim
If you feel that some of the above were true in your case, then take a look at the check list below which will help you decide whether to begin a compensation claim or not.

Pension Mis-Selling Checklist
Here's our check list which you can use to determine whether you've been mis sold a financial product including pensions or annuities.  If you answer yes to any question, you could be able to make a claim:
Did the product offered by an advisor include any risky products like SERPS, property investments or ethical forestry schemes?
Was any pressure placed on you by the advisor to make a quick decision?
Did the advisor fail to investigate how you live your life including how much you smoke or drink each week?
Did the advisor fail to ask questions about your current health as well as any historical health issues?
Was it recommended that you place your pension fund into a SIPP product?
Did the advisor fail to offer a full range of pension products and limit your choice to a few products they wanted you to buy?
Finally, did you transfer funds out of a workplace pension when it could've been better left where it was?
If you've answered yes to any of these questions, then you could be eligible to make a compensation claim for your financial losses.  Here at Legal Expert we offer a no win no fee service for any claim we help with so call us today to discuss your options.

Claims For A Mis-Sold Pension Product Which Belonged To A Deceased Partner
If you're currently receiving a pension or annuity that was passed to you when your partner passed away, you could still begin a compensation claim if they were offered poor advice when purchasing their product.
If the pension or annuity is worth less than it should've been, because of poor advice or financial mis-selling, then call Legal Expert to discuss how we could help you.

Independent Financial Advisors Who May Have Provided Pension Advice
As we've mentioned throughout this guide, claims for mis sold Jaguar Land Rover pension compensation are directed towards financial advisors for any incorrect information provided.  Here is a list of some IFAs and other companies who who provide financial advice.
Foreman Financial Services.
MY IFA Friend.
Active Wealth (UK).
1 Stop Financial Services.
Blue Infinitas.
Alderley Asset Management.
Douglas Baillie Limited.
C3 Financial Services Limited formerly Foyle & Lagan Limited.
Carter Henderson Associates Limited.
Consumer Wealth.
Foreman Financial Services.
Grainger & Co Financial Services.
Here are some pension schemes you may have used:
Guinness Mahon.
The Lifetime SIPP Company.
Beaufort Securities.
Fast Pensions.
GPC SIPP.
Greyfriars Asset Management LLP.
Strand Capital.
Investment Schemes:
London Capital & Finance.
And finally, Investment IFA's:
Surge Financial.
JNF Capital Limited.
If you've lost out financially and answered yes to one of the questions in our pension mis-selling checklist, then please call today and speak with a member of our team.

Statistics For How Commonly Pensions May Have Been Mis-Sold
Between 2016 and 2018 the amount of compensation awarded for mis sold pensions doubled from £20 million to £40 million.   This area of financial mis-selling is becoming more prominent as people realise that they've lost out financially and that financial advisors didn't always offer them the best advice when selling pension products.
Remember that these claims relate to FCA regulations which commenced in June 2008 for advice on pensions that may have been mis sold before 2008 please call our advisors for more information.

Mis Sold Pension Compensation Calculator
If you'd like to know how much compensation you're likely to receive for a mis sold pension, then the thing to do is call and let one of our advisors assess your claim fully.  Each claim is different and financial losses will be different on a case by case basis.
Therefore, calculating the average compensation for a mis sold pension is quite tricky. For guidance only, we've prepared the table below:
| Size of annuity or pension | Estimated Compensation |
| --- | --- |
| Small to medium | This could be a payment somewhere in the region of £30,000 to £50,000 |
| Medium to large | This could be a payment somewhere in the region of £50,000 to £150,000 |
| Large | This could be a payment somewhere in the region of £150,000 or possible more dependant on circumstances. |
Again, the best way to find out how much compensation you could be awarded is to speak with one of our dedicated team.

No Win No Fee Financial Mis-Selling Claims Solicitors
One of the main things that puts people off claiming for mis-sold pension compensation is the cost of hiring a solicitor to take on the case.
That's why, here at Legal Expert, we operate a no win no fee service for every claim we take on.   No win no fee makes claiming less stressful because;
You don't pay anything up front for the solicitor to begin your case.
There's nothing to pay your solicitor if the solicitor fails to win you any compensation.
If you do receive compensation, you don't need to find the money to pay the solicitor as their success fee is taken directly from the compensation.
Success fees are limited by law to 25% but could be less. You'll always know the percentage as it is stated explicitly in the no win no fee agreement meaning there will be no surprises.

Steps To Take If Your Pension Was Mis-Sold
To begin your mis-sold pension claim, there are a number of steps you can take which will make claiming easier. Try to take the time to:
Use our checklist again to ensure you answer yes to at least one question.
Collate as much documentation that you have relating to your pension product so that our advisors can assess it with you.
Document as much of your pension history as possible i.e. make a note of your employment dates and when you started contributing to your pensions.
If you have any emails or documents which show the advisor told you to transfer out of your workplace pension, print them out.
If there are any other documents which could prove a breach of FCA regulations, print them out too.
Finally, when you've completed as many of the above tasks as possible, contact Legal Expert.
We'll begin by assessing your case and the supporting evidence with you. If we believe you've got a good chance of claiming compensation, we'll offer a no win no fee service and get your claim started as soon as possible.

Contact Us
To get in touch with us at Legal Expert you can:
However you get in touch, we will happily offer you free legal advice about your case even if you're not sure whether to claim or you want advice on what steps you need to take next.

Resources If Mis-Sold A Pension
Now that you've reached the end of this guide about mis sold Jaguar Land Rover pension compensation claims, we've provided some more useful resources and external links which you may find useful.
Pension Wise – Free and impartial advice for over 50s on what options are available for workplace pensions.
Pension Pots Protection – Information from the FCA about protection they've put in place to protect pensions.
Workplace Pension Schemes – More information from the UK government about workplace pensions, how they work and how to protect your pension.
Mis Sold Pension Claims – A more generic look at mis sold pension claims.
PPI Claims  – Information on how to claim for mis sold payment protection insurance before the deadline passes.
If you require any further information or advice, please call to discuss your options with a member of our team.
Edited By Melissa.