Mis Sold Arcadia Pensions Claims Guide – How Much Compensation Can I Claim If My Arcadia Pensions Was Mis Sold?
This guide has been compiled if you have invested your Arcadia pension in bad deal. In recent years, there has been increased media attention regarding the mis-selling of pensions in the UK. A lot of people may now be realising that they could have received negligent advice or that they could have received a pension product they should not have been sold. If this sounds familiar, you could well be considering taking legal action if you have mis sold your pension. The UK government has set aside 120 million pounds to be awarded to those who have mis-sold their pensions. The claim will not be made against Arcadia the claim will be against the person or party responsible for the incorrect information you received. This could be an independent financial adviser, for example. Here at Legal Expert, we have many years of experience in the industry and we could help you figure out whether or not you will be entitled to a payment.
Select A Section
A Guide To Mis-Sold Arcadia Group Pensions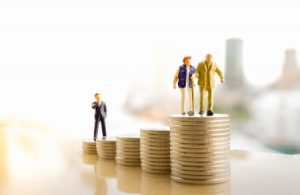 In this guide, we will reveal everything you need to know if you are exploring the possibility of making a mis-sold Arcadia pension claim. This includes information on making a claim for solo plans, as well as making a mis-sold Arcadia Group pension claim. The claims will not be made against Arcadia but against the provider of the mis-sold information and compensation will either be provided by the company who mis-sold the pension or if they have unfortunately gone into liquidation the Financial Services Compensation Scheme may award damages. Have you mis-sold your Arcadia pension and want to seek compensation for this? Or has your Arcadia Group pension been mis-sold and you are wondering if it is possible to claim back your losses? Then in this guide we maybe able to answer some questions for you. We want to help you to understand the different circumstances that could result in you making a claim for compensation, as well as revealing statistics about the pension mis-selling claims made today. If you still have any questions by the time you finish reading this guide, please do not hesitate to get in touch for more information. You will find our contact information at the end of this guide.
What Is A Workplace Pension Scheme?
It is certainly advisable to put money away for when you are older. There are a number of ways you could go about this. You may contribute to your own pension plan. Alternatively, you may receive a pension from your place that you and your employer both contribute to. Workplace pension schemes have been set up to make sure that all employees have money put away for when they are no longer able to work.
What Do We Mean By A Mis-Sold Arcadia Group Pension?
At the moment, the Financial Conduct Authority is receiving a lot of pension mis-selling complaints. In fact, many people might agree that this is one of the biggest scandals to impact the financial services sector. There are many ways that financial mis-selling and pension mis-selling could happen and so there are many different reasons why you may be thinking about making a mis sold pension compensation claim. When we talk about mis-sold Arcadia pensions what we are referring to is those whom have been sold their pensions on to a third party due to incorrect financial advice or who have been offered a poor deal. The onus is not on Arcadia but on those that have provided the mis-selling.
What Is An Annuity And How Does It Work?
Not only may you be able to make a claim for a mis-sold pension, but you could also make a claim if an annuity has been mis-sold to you. The great difference between a pension and an annuity is that a pension is saved over a person's working life and an annuity can be bought in retirement to guarantee for a regular income. In simple terms an annuity is a type of retirement income product that you could buy with the money from your pension. Insurance companies are usually responsible for selling annuities.
There are two main types of annuities; fixed-term annuities and lifetime annuities. You could usually take up to a quarter of the pension pot as a tax-free sum when using it to purchase an annuity. In terms of making this sort of claim, it would work in very much the same way that a mis sold pension transfer claim would. This means that your claim would be made against the person that mis-sold the annuity to you, not the provider of the product. It all depends on the circumstances and this is why it is so important to make sure that you align yourself with someone with experience in financial mis-selling. We have a team of specialists in pension claims, and they will be able to assess the circumstances of your potential claim to give you a better understanding.
Were You Mis-Sold An Annuity?
When taking out an annuity, you have a right to shop around and find the best deal. After all, a product like this could heavily impact the amount of income you are going to have in your retirement and so it is only right that you are presented with all of the options. There are a number of different ways that you could be mis-sold an annuity. Ask yourself the following questions to determine whether you could have been mis-sold an annuity.
Did the financial adviser ask about your lifestyle habits, for example, whether you drink or smoke?
At the time of taking out the annuity was you suffering from a health condition which the financial provider or pension provider did not ask you about?
At any time was you informed by the pension provider or financial provider of a better deal through a different alternative?
SIPP Pension Mis-Selling Claims
SIPPS are self invested personal pensions. A SIPP allows people to have control over their pensions, deciding themselves where their pension should be invested. SIPPS can be controlled online almost like online banking. Those that may have had their Acadia pensions mis-sold may have used SIPP's.
The reason why these sorts of pensions could tend to be mis-sold is because they often tend to involve your capital being placed in risky investments, and this is something a lot of people may not be aware of when they take out this sort of deal. People maybe given the wrong information, and when people invest in SIPP products the investments maybe non-standard and unregulated.
Unsuitable Pension Transfer Advice
The Financial Conduct Authority has been concentrating their efforts on pension fund transfer following the information that they have been collecting with regards given to those who want to transfer their pensions they found that less than 50% of the advise that was given was suitable. The results are based on targeted work and are not a reflection of the whole market.    If you have transferred your Arcadia pension due to poor advice or wrong advice and you have lost part of all you investment you maybe considering filing a claim.
This could mean that your pension is transferred from a company pension plan to a solo policy, for instance. Or, it could simply be the case that it is recommended to you to change your pension provider or to amend your policy. Essentially, if the transfer advice you have been given is false or negligent, and it has had negative financial consequences for you, this could potentially give you the grounds for a claim. This is something that we would be more than happy to assist with. All you need to do is give us a call if you have any queries or you are ready to begin the claiming process.
Have I Been A Victim Of Pension Mis-Selling?
It could be hard for someone to judge whether or not they have been the victim of pension mis-selling, and therefore, whether they are entitled to mis-sold Arcadia pension compensation. In a successful claim the compensation will either be awarded by the company who mis-sold the pension funds not Arcadia or the government scheme. After all, you may think that you have simply been unlucky and that the pension was sold to you in good faith. However if you are unsure of your eligibility simply call Legal Expert and they will be able to tell you if you have grounds to pursue a claim and who if anyone is liable.
At the end of the day, it costs nothing to give us a call or to leave your contact details for us to call you back. You will speak to one of our friendly advisors who will be more than happy to assist you in any manner they can and give you a good understanding as to whether or not they think your pension has been mis-sold.
Generally speaking, you could have been the victim of a mis-sold pension if you were not provided with a complete overview of all of the different options available to you. It could also be considered that you have been mis-sold a pension if your mental state and lifestyle were completely overlooked, as well as cases whereby you may feel like you were told to go for a product that actually was not the best option for you.
Checklist For Victims Of Financial Mis-Selling
You may feel that you have been mis-sold a pension yet you may be unsure whether or not this is the case. Below, we have put together a checklist to help you. This list outlines some of the most common examples of pension mis-selling. If you can't find what happened to you in the list below, please do not hesitate to give us a call and we will shed further light on whether your case could make you eligible for mis sold pension compensation.
The financial advisor or pension provider you were working with did not let you know that there was the potential to get an improved deal if you went for a different provider.
You have invested in assets considered non-standard. Examples include the likes of carbon credits, ethical forestry, storage pods, green oil, overseas property, car park schemes, and such like.
You felt pressured into taking a certain pension and you did not feel like you had the opportunity to search for a better deal.
Your financial advisor did not ask you about a mental health condition you were experiencing at the time.
Mis-Sold Pension Claims On Behalf Of Someone Who Is Deceased
You may be wondering if you could make a claim for a mis-sold pension if the original pension holder has since passed away. In a lot of pension mis-selling complaints, this could sadly be the case. Nevertheless, if the person in question left their pension to you and you receive an income from it, there is a chance you may be entitled to compensation if you could prove your loved one was initially mis-sold the pension. If you would like some more information about this, all you need to do is give us a call and we will be happy to explain.
IFA's Who May Have Been Responsible For A Pension
The mis sold pension claim could be against some of these below.
Pension IFAs.
MY IFA Friend
Active Wealth (UK)
Blue Infinitas
Alderley Asset Management
Douglas Baillie Limited
1 Stop Financial Services
Carter Henderson Associates Limited
Consumer Wealth
Foreman Financial Services
Grainger & Co Financial Services
C3 Financial Services Limited formerly Foyle & Lagan Limited
Pension Schemes
Fast Pensions
GPC SIPP
Greyfriars Asset Management LLP
Strand Capital
Beaufort Securities
Guinness Mahon
The Lifetime SIPP Company
Investment Scheme
Investment IFAs
Surge Financial
JNF Capital Limited
Rates Of Pension Mis-Selling In The UK
The statistics regarding mis-sold pensions could be seen as being a little frightening. They show just how much of a problem this has become in the UK. According to the Financial Times, the amount of compensation awarded for these claims has doubled, as more and more people recognise that they could make a financial mis selling claim. In 2016, £20 million was awarded in these claims. In 2018, this has risen to £40 million.
Mis-Sold Pension Compensation Calculator
When making any sort of claim, whether a mis sold pension compensation claim or any other sort of mis sold claim, one thing that you may want to know is how much you are going to receive if your case is a success. It is important to recognise that all claims are handled on an individual basis. This is so that a fair amount is awarded. All of the circumstances surrounding your claim will be carefully reviewed so that you are going to get a fair payout. Because of this, it is not possible to tell you the exact amount you will receive. No legal professional is able to do this. The best that we can do is give you an estimate. You may find this information in the table below. If you have any questions or you would like some further clarity, simply give us a call.

| Size of annuity or pension | The potential level of compensation |
| --- | --- |
| Large | Could range up to £150,000. In some cases, it is more than this. |
| Medium to large | Ranging from £50,000 to £150,000. The exact amount depends on the circumstances. |
| Small to medium | Ranging from £30,000 to £50,000. The exact amount depends on the circumstances. |
No Win No Fee Solicitors For Pension Mis-Selling Claims
No matter whether you may want to make a mis-sold pension claim for a solo plan or a mis-sold group pension claim, our advice is that you should ensure you choose a solicitor with care. One of the most important aspects, we feel, is looking for a no win no fee solicitor. You may have heard this term before yet you may be unsure of what it means. Essentially, you are only going to need to pay your solicitor if he or she manages to secure compensation for you. If the case is not a success, you could have peace of mind knowing that you will not need to pay your solicitor for their time or service.
What To Do If You Think Your Pension Was Mis-Sold
If you think that you could have mis-sold a pension, you could well be considering making a mis-sold pension claim. While the financial mis-selling solicitors you work with are largely going to be responsible for your mis sold pension transfer claim, there are some important steps you could take if you are considering making a claim for your mis-sold Arcadia pension.
First, you may need to gather all the paperwork and documents that relate to your pension. You may want to also gather any information that will act as evidence regarding any mis-selling. Keep hold of anything relevant as you never know how it may help your claim.
Aside from this, you may need to make an effort to find the right financial mis-selling claims adviser. After all, this person is largely going to be responsible for making sure you get the maximum amount of compensation possible. Luckily, you don't need to search far for help when it comes to complaining about your pension scheme, as we have many years of experience in the industry.
Contact Us
There are plenty of ways for you to get in touch. Most people may prefer to ring our claims line. You could reach us on 0800 073 8804 if you would like more information about or you are ready to start the mis-sold pension claim process for your mis-sold Arcadia pension. This is open seven days a week, so you could call whenever is convenient for you. We will be more than happy to answer any queries you have about mis sold pension claims. Nevertheless, if this is not suitable for you or you would like to get in touch via another manner, you could do so. You will have probably already noticed the live chat function on our website. Simply type a message and an agent will respond to you right away. You also have the option of sending us an email and we will get back to you as soon as we can. Moreover, if you would prefer, you can submit your contact details and your preferred call time and we will give you a ring about your potential mis-sold pension claim.
Resources For Victims Of Pension Mis-Selling
General guide to pension claims – Our general guide concerning pension claims.
PPI – if it is PPI Claims advice you're looking for, our guide could help.
Pensionwise – The Government's Page about Pensions.