How Much Compensation Can I Claim For A Back Injury?
By Olivia Fitzpatrick. Last Updated 20th July 2021. Welcome to our guide on back injury claims. This guide is for those seeking free legal advice on how to claim back injury compensation and explains how much compensation for a back injury could be possible for your claim.
There is no doubt that the back is an essential and delicate part of the body, requiring constant care and attention. However, the reality is that an injury to the back can cause temporary or permanent immobility.
In this guide to making a back injury claim, we'll explain the various types of back injuries, how they can be caused, and when you could claim back injury compensation. We'll also cover the likes of whiplash and back pain compensation, No Win No Fee agreements and answer some frequently asked questions such as:
How much is my back injury claim worth?
How can I prove my back injury at work?
What is the average payout for a back injury?
How much compensation for a back injury at work?
If you have a question at any point while reading this guide, our personal injury solicitors have specialist advisors on hand to take your call. They're available 24 hours a day, 7 days per week, and you can reach them:
What is a back injury?
So, before we delve deep into how much compensation for a back injury, let's explain the injury. So, a back injury is any damage that you suffer due to your back, which takes up two forms. It could be that you suffer muscle damage to the semispinalis, the multifidus or the rotatores.
And that could be a tear, a spasm or whiplash in any of those muscles. Or it could be that you suffer vertebrae damage to the spinal column. Note that the spine contains many bones, but a fracture to any of them could cause extreme pain.
Also, consider the impact on your mobility in the event of you suffering a back injury. As a matter of fact, a serious back injury could significantly hinder your mobility permanently. As you might imagine, then, a back injury has the potential to be life-changing. And therefore, you deserve maximum compensation if you suffer a back injury in an accident that isn't your fault. Please continue to read this guide to find out more information about how much compensation for a back injury is claimable.
Making A Back Injury Claim
At our firm, we aim to make it easy for you to make back injury claims. Besides, it is essential to note that a back injury can involve fractured vertebrae, strains, sprains, and even herniated discs. Therefore, an in-depth understanding of the matter will help in making a successful claim.
This guide is designed to lay out all the facts and procedures and the added benefit of answering the questions you may have regarding making a back injury compensation claim.
Ideally, we will ensure you know your rights and not take problems arising from your back injury casually. We are also ready to pursue the compensation claim on your behalf, using a No Win No Fee agreement. By the end, you will understand all you need to proceed with the case, allowing you to make your compensation claim. And that should advise you on how much compensation for a back injury is achievable.
How long do I have to make back injury claims?
Are you aware that personal injury claims, including back injury claims, have time limits of 3 years? This limitation period is typically effective from the date of your accident but could also be effective from the date that you gained the knowledge that you were affected by it.
In some cases where the claimant is unable to make their own claim, a litigation friend can be appointed to make legal proceedings on their behalf. Some examples of when a litigation friend may be necessary include:
The claimant is mentally incapacitated
The claimant is under the age of 18
In both of these cases, the claimants wouldn't be able to make a claim for themselves so would require a litigation friend to pursue compensation for them. The usual time limit would not apply as these are not normal circumstances. Instead, any such limitation period wouldn't come into affect until:
The claimant regained the capacity to claim
The claimant reached their 18th birthday, coming of age in the eyes of the law
If you'd like to learn more about the role of a litigation friend or see whether you're still within the relevant time limit to claim, please get in touch today for some free legal advice and support.
Select a section:
A Guide to Back Injury Accident Claims
So, how much compensation for a back injury could you attain? Unfortunately, many people do nothing about their back injury caused by negligence. Typically this is because victims do not understand that they are entitled to claim compensation. However, this is why we are here to guide you through the process in a calm, professional manner.
We offer a free consultation service as part of our efforts to help you claim compensation for your back injury accident. We will investigate the case and gather the critical facts to offer you the best advice on proceeding with your claims.
As such, this guide will aim to provide the information you require, particularly as it pertains to making a back injury compensation claim. We will also attempt to answer your questions about when, why, and how you can initiate a compensation claim process in the event of a back injury accident.
It contains a great deal of information, such as what you need to do if you are involved in a back injury accident; discerning the severity of a back injury; an overview of the compensation you would likely receive for an accident causing a back injury; and why our team of solicitors are perfectly placed to help.
We have worked hard to create one of the most comprehensive and helpful guides, which could make a real difference to you and your case.
It is important to note that each case can and will be different. Thus, each case will be handled uniquely. However, with our experience and expertise and our 'No Win No Fee' agreement, we can handle all back injury claims in such a manner that you really have nothing to lose.
How do I know if I have grounds to make back injury claims?
In order to have grounds to make any type of personal injury claim, including back injury claims, you must be able to prove that you suffered as a result of a third party's negligence.
If you're wondering how to determine whether this was the case for your incident, the following few questions are a quick way of gauging whether you could be on the right track:
Were you owed a legal duty of care by a third party?
Did that third party fail to uphold their duty to you?
Have you suffered as a result?
Providing that you can answer yes to all of the above questions, there's a good chance that you could be entitled to compensation.
However, every case is different, so please get in touch today for a free consultation with legal advice on whether you could have grounds to claim back injury compensation. In the meantime, please read on to learn more about what to do if suffer a back injury through no fault of your own.
What To Do If You Suffer A Back Injury In An Accident
Before considering how much compensation for a back injury is claimable, let's focus on the injury itself. So, accidents by their very nature catch us by surprise. After all, we never plan for accidents and unfortunate, unexpected events. But the reality is that thousands of people are involved in all sorts of accidents every year. Often, people get injured in the process.
These accidents can range from rear-end car accidents, side impacts, head-on collisions, industrial incidents, and many more. However, the most commonly reported injuries involve the back.
If you are involved in an accident that wasn't your fault, you will have to gather evidence to that effect. This way, you can give your case the best chance of success. This is the first step, and it is crucial. It allows us to ensure that the insurance company pays for any liability. The evidence in this regard can include taking photos of the accident location, getting CCTV footage of the accident, etc. These are crucial pieces of evidence towards you successfully receiving back injury compensation.
The truth is that pictures or video footage don't lie. It will be easier to make your case if images of the accident location, the point of impact, the injuries, and any other tangible photographic evidence form the foundation of your claim. Besides taking a photo, you will also require the witness details like the contact information. In addition to photographs and video, witness testimony is essential. It can form a reliable portion of your case, so tracking down the contact details for any witnesses should be considered a priority.
Similarly, medical records (especially those tied to your back injury) and any historical medical documents regarding the affected area should be sourced. Your medical records can differentiate between long-term issues and new problems caused by the accident when proving your case.
If you find yourself with an unexpected injury due to the fault, you should start thinking about your case and the evidence right away. Once you gather your evidence, you should learn how much compensation you could claim for a back injury. To find out more about back injury claims, please get in touch with our personal injury advisers. And they can explain how much compensation for a back injury that you could claim.
Back Injury Claim Statistics
Back injuries, particularly in the workplace, are alarmingly common. In some circumstances, workplace accidents are unfortunate and blameless events. However, if a workplace accident I caused by the negligent accidents of a third party, then a back injury claim could be a suitable course of action to receive back injury compensation.
We have taken the time to include some of the latest statistics from the Health and Safety Executive (HSE). In 2019/20, it was found that around 480,000 workers had work-related musculoskeletal disorders—37% of this overall figure related to back injuries. The HSE also found the three main industries with the highest average rate of musculoskeletal disorders, which are:
Agriculture, forestry and fishing
Construction
Human health and social work
If you're looking to make a back injury claim for injuries you suffered at work, you could be entitled to compensation in a road traffic accident or an accident in a public place. Get in touch with our personal injury claims team to find out more.
What Back Injuries Can You Claim For?
Back injuries could involve spinal cord damage, a slipped disc, fractured vertebrae, sprains, bruises, and many other concerns. Depending on the force of impact, any resulting damage to the spine or the back is considered to be incredibly severe. Ask any doctor: such injuries are a cause for concern, and you should seek medical attention if you are injured.
The medical report will go a long way towards deciding how much compensation for a back injury is possible. So to find out more about what you can factor into the likes of lower back injury claims, please get in touch.
Claiming Compensation for a Back Injury at Work
It is important to note that, as an employee, your employer is expected to provide you with a work environment that keeps you as safe as possible. The Health and Safety at Work etc. Act 1974 emphasis this obligation bestowed to employers. However, there's little doubt that back injuries are the most common suffered in the workplace.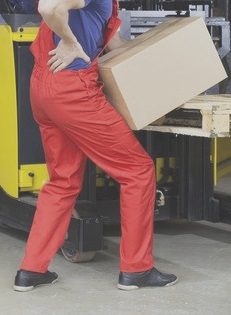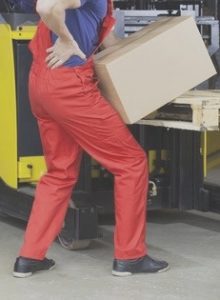 As a result, back injury claims are among the most common we encounter. Back injury compensation is especially a potential outcome when an employer has failed to implement mechanisms that keep employees free from risk.
Such mechanisms can involve training in avoiding back injuries or health and safety protocols that guide how to remain healthy and risk-free. But such mechanisms are no guarantee. For example, an employee could claim compensation for a back injury accident at work when they fail.
Causes of Back Injuries at Work
There are myriad workplace activities that can cause a back injury. From the innocuous – a slip, trip, or fall from height – to the potentially hazardous – working near exposed electrical connections or near precariously placed objects which could fall on an employee – there is no single, defined way in which a person can injure their back.
When health and safety procedures are correctly implemented, you should be able to avoid risk. Any claims in which employees have circumvented such methods are challenging. But when these procedures are absent, flawed, or forgotten by the employer, it is well within your rights to make a back injury claim for compensation. In such situations, our law firm is ready to help. And they could also explain how much compensation for a back injury you could win.
How to Claim Compensation
We have a long and storied experience of working with back injury claims. And we have seen tendon damage, ligament damage, paraplegia, soft tissue damage, and prolapsed discs.
We know that the amount of compensation you can claim will depend on your injury's type and severity. However, in our experience, back injury compensation examples will likely fall within one of three broad categories.
For example, a 'minor' back injury causes temporary damage to the back, with short-term pain resulting from the injury. We'll go over the various severities in more detail below when we specifically address how much compensation for a back injury at work?
Depending on the harm suffered, we can advise on your compensation award for a back injury if you get in touch with our personal injury claims team today.
Claiming Compensation for a Back Injury in a Public Place
Some of the most common accidents which result in back injury claims happen in public places. This kind of accident is referred to as a public liability accident. This is because the owner – or anyone who occupies (renting, leasing, etc.) a commercial space – can be held liable for any injuries suffered in the place, which includes back injuries.
When we talk about public places, this includes commercial venues such as retail stores, supermarkets, libraries, nightclubs, pubs, restaurants, etc. However, in reality, the owner or occupant of any public place must ensure that all the areas accessible to the public are kept safe to reduce or eliminate the risk of injuries to the public.
Therefore, if you're hurt in a public place, you might be eligible to claim for a back injury. In addition, if the injury was incurred due to negligence on the part of the owner or occupier of the place, and the injury occurred within the last 3 years, we can help.
It should be noted that the responsible party could be a company or even a local council.
To find out more about personal injury claims, get in touch with our expert team of personal injury advisers.
Judging the Severity of a Back Injury
Let's circle back to "how much compensation for a back injury?" Compensation for a back injury varies on a case-by-case basis because the severity of back injuries can vary. Therefore, one of our first actions as part of the claim will be to have the seriousness of any back injury assessed and judged by a qualified medical professional, who will offer their impartial, expert opinion.
Therefore, it is essential first to undergo the required medical examinations if you have suffered a back injury. These allow medical professionals to determine your injury's extent. After the examination, the medical report comes from our solicitors to help build up your potential case. In addition, such reports can help us determine any car accident injury compensation amounts, a back injury at work compensation amount, and other metrics relating to back injury claims.
Again, there are numerous types and severity gradings of back injuries. For example, the back injury could be mild only to cause slight discomfort and restore normality quickly and timely.
However, there are very severe back injuries capable of causing a drastic and permanent change to the person's life. In fact, this is the kind of back injury that could lead to paralysis.
As we have mentioned, any back injury compensation claim will be directly proportional to the severity of the injury, so it is essential to determine the back pain severity correctly.
How to Begin a Back Injury Accident Compensation Claim
To make a successful back injury claim, the first step should involve a call to our company. By doing that, you can speak with our experts about your case.
You will get a free consultancy session, where you will learn about our No Win No Fee policy. When you contact us, our back injury specialist will access your back injury compensation claims. Plus, they will ask you probing questions to determine who is liable. And they can then advise on the next course of action as a result of these findings.
We acknowledge that claims relating to back injuries can be time-consuming and costly due to necessary legal fees for the claimant. Unfortunately, these legal fees can become a real barrier to many people. And, for this reason, we employ a system that aims to help everyone. This arrangement is a No Win No Fee agreement. And that way, the only fees that may come about are due to a successful claim. All of this shapes how much compensation for a back injury you might receive.
What Can be Claimed for After an Accident Causing a Back Injury
A back injury claim can allow you to recover compensation for your injuries' physical pain and psychological suffering.
Back injuries vary according to severity. And, as such, any compensation varies on a case by case basis. However, it's possible to provide a compensation estimate for back injuries based on assessing the following things:
General Damages – these are the damages about providing compensation for the non-monetary losses. They are the losses that are difficult to evaluate on a purely monetary basis and can include pain and suffering, emotional distress, as well as the impact on your quality of life.
Care Claim: this is a claim for a carer to file for you to recuperate their costs of looking after you.
Loss of Earnings: this comes under special damages. In this case, you should receive compensation for the loss of your income. Not to mention the potential future reduction in your income level. Back injury compensation for loss of earnings comes using a formula covering your projected earnings. And it also covers the effect of the back injury on your ability to work in the future.
Travel Expenses: This is the kind of claim that seeks to reimburse your travel expenses in addition to other damages. That may include damage to your personal property as a result of the accident.
Medical Bills: This claim seeks to compensate for the medical expenses for the present and future. However, they will depend on the severity of the back injury. The claim could run into millions of pounds, especially if it involves lifelong medical care.
The most important thing is to understand what you can claim after an accident causing a back injury. And you could then build the case on these conditions. All of this factors towards how much compensation for a back injury is available.
What Is The Average Payout For A Back Injury Claim?
The amount of money you can get as compensation for an accident causing a back injury will depend on the severity of the problem.
Back injuries can be classified as minor, moderate, or even severe, affecting the compensation total. There is no fixed average compensation for back injury claims, for example, and creating a soft tissue injury compensation calculator is difficult.
However, using the Judicial College guidelines, we have created the table below to give you an idea of the potential value of different levels of back injuries.
Updated July 2021.
| Injury | Severity | Amount | Details |
| --- | --- | --- | --- |
| Shoulder | Minor | From around £2,300 to £7,410 | Considerable pain but almost complete recovery between 3 months and 2 years. |
| Shoulder | Moderate | £7,410 to £11,980 | Frozen shoulder with a limited movement left. Symptoms lasting around 2 years. |
| Shoulder | Severe | £18,020 to £45,070 | Damage to brachial plexus resulting in severe disability. |
| Neck | Minor | From around £2,300 to £7,410 | Includes minor soft tissue injuries. |
| Neck | Moderate | £7,410 to £36,120 | Higher payouts will be fractures or dislocations that cause severe symptoms immediately. Limitation of function. |
| Neck | Severe | £42,680 to in the region of £139,210 | Higher payouts will be for incomplete paraplegia, requiring a neck brace at all times. Little or no movement. |
| Back | Minor | From around £2,300 to £11,730 | Full recovery or recovery to nuisance levels between 2 and 5 years. |
| Back | Moderate | £11,730 to £36,390 | Any residual disability is less severe but could result in osteoarthritis or the like. Includes crushing injuries such as fractures. |
| Back | Severe | £36,390 to £151,070 | Higher payouts will involve damaged spinal cord or nerve roots. Severe pain and |
| Mental anguish | - | £4,380 | Fear of impending death |
| Psychiatric damage | Less Severe | £1,440 to £5,500 | Affects daily activity and sleep, just falling short of phobias developing. |
| Post-traumatic stress disorder (PTSD) | Moderate | £7,680 to £21,730 | A psychological reaction to a traumatic event |
We appreciate you may want a more specific answer than this, and if so, our personal injury claims team can offer you just that. So give them a call, explain your circumstances, and they can tell you more about possible back injury compensation.
No Win No Fee Back Back Injury Claims
You may well have heard the phrase No Win No Fee before, but what exactly does it mean?
Well, if your claim is unsuccessful, you won't have to pay your solicitor any fees at all.
If the claim does succeed, your solicitor deducts a success fee to cover their costs in pursuing your claim. Success fees have a legal cap at a low level, meaning you walk away with most of your compensation.
Other benefits to No Win No Fee agreements include no upfront costs and no costs to pay while the claim is ongoing.
For more information on No Win No Fee agreements in back injury claims and how much compensation for a back injury you may receive if they're successful, please call our personal injury claims team.
Why Choose Us as Your Claims Service for a Back Injury Claim?
We are one of the leading experts in the handling of back injury compensation claims. We have over 20 years of experience in all kinds of claims with all kinds of clients. As a result, we have the expertise and the essential knowledge needed to give you the best chance of winning the right compensation for your back injury.
We care for our customers and pride ourselves on the treatment we provide. However, because our team of experts understands the effects of back injuries on your quality of life, we know that back injuries can prevent you from providing for yourself and your family. They can be devastating financially, physically, and psychologically.
This is why we take the issue of compensation claims very seriously, and we pursue it on your behalf with every resource at our disposal. Why not check out some of our glowing reviews by clicking here? Here's what one of our satisfied clients had to say:
"My claim was dealt with the utmost of professionalism and empathy at a very stressful time," Deborah
You can trust our team to provide the very best legal services available for your back injury claims.
Call for Free Advice and Start a Claim
If you're now looking to claim yourself or have any questions, our personal injury claims team is standing by to help you. The advice they provide about back injury compensation is completely free, and you don't have any obligation to proceed with a claim.
So, if you still wonder how much compensation for a back injury is feasible, you can get in touch with them by:
Extra Resources On Making A Back Injury Claim
In this section, you can find more information to help you with personal injury claims.
If you're suffering from lower back pain, this guide could be of use.
The HSE Guide to Backpain in the Workplace
Details on workplace back injuries and how to avoid them.
A Government Guide To Claiming Compensation For Workplace Injuries
How Much Compensation For A Fall At Work?
Back injuries are a common outcome of falls at work, and in this guide, we discuss them at length.
A Guide to Making A Claim For Injuries Sustained In A Public Park
Our Guide to Accidents At Work
This guide reveals all of how much compensation for a back injury at work is achievable.
Back Injury Claims FAQs
Can I claim for a back injury at work?
Yes, as long as you can prove that your employer was at fault for you suffering your back injury.
How can I prove my back injury at work?
To successfully argue that your employer has acted negligently, you need to establish that they breached their duty of care in some way. For example, this could have been because they failed to give you manual handling training or if they did not supply you with any lifting equipment when handling heavy objects.
Can you prove a back injury?
Yes, it's possible to prove a back injury. If you're making a claim, we can arrange for you to have an examination by an independent medical expert. They conduct a thorough assessment of your condition and could diagnose you with a back injury, thereby proving your claim.
How do you know if your back injury is serious?
Medical negligence claims need medical evidence to back them up. Typically, this comes via an independent evaluation with an independent expert. However, some injuries require more immediate medical attention. If you're in doubt, seek help from your GP and log your concerns on your medical record. As a result, these could further evidence your claim.
How do you receive your settlement payment?
Settlements for personal injury claims relating to spinal injuries divide into general damages and special damages. General damages compensate for specific pain and suffering, whereas special damages compensate for losses relating to the accident. So, the latter include medical fees that you would previously pay out of pocket.
How much compensation will I get for a back injury at work?
Back injuries and whiplash injuries have similar compensation payouts. For example, the average payout for back and whiplash injuries that heal within 3 months is between £1,000 and £2,300. Similarly, for injuries taking up to 2 years to heal, the average personal injury compensation payout is £2,300-£7,410. More serious injuries could see you awarded compensation over £100,000.
Note, however, that compensation payouts for a back injury do vary. It's, therefore, always best to get concrete legal advice.
What is fair compensation for pain and suffering?
As each case differs, it's hard to identify a 'fair' offer without properly assessing the details of your claim. Therefore, to estimate how much you could receive, free phone us today.
How can I prove my pain and suffering?
A medical appointment with an independent expert confirms your suffering to support your moderate back injury compensation claim. You receive a physical examination at your appointment and answer a few questions about the accident's impact. All of this matters even more if the injury requires surgery. Everything from your pain to your quality of life goes in a resulting report as evidence.
Thank you for reading our guide to back injury claims.