Walsall Data Breach Solicitors – Expert Claims Support
Data breach solicitors for the Walsall area could help you when it comes to claiming data breach compensation. If you've been harmed as a result of a data security incident, the information within this guide should help.
You have probably heard about the GDPR or the General Data Protection Regulation. It was introduced when the Data Protection Act 2018 (DPA) was enacted into law. Once the UK left the EU, the DPA was updated and the UK GDPR was introduced. These laws are both designed to control how organisations use information about you. If they are not followed, the Information Commissioner's Office (ICO) can take action against the company responsible. However, their powers do not allow them to issue compensation to individuals harmed by data breaches. Therefore, this guide will explain how you could claim data breach compensation with the help of our solicitors.
If you've lost money or sustained a psychological injury following a data breach, we could help. During a free telephone consultation, you'll be given legal advice about your options. If there's a reasonable chance of winning your claim, we could appoint one of our data breach lawyers. They'll provide a No Win No Fee service if they agree to represent you. As a result, you'll only need to pay for your solicitors work if you are paid compensation.
To begin your claim today, please call us on 0800 073 8804. To learn more about the claims process before calling, please read on.
Select a Section
How To Get Help From Data Breach Solicitors For Walsall
Before we review the data breach claims process, let's define some terms that'll be used during this guide:
Personal data is information that could lead to a data subject being identified.
A data subject is any living individual whose data will be processed, stored or collected by an organisation.
The data controller is the organisation that needs to use personal data.
A data processor performs tasks on personal data on behalf of the data controller.
During the course of this guide, we'll look at when you could use our data breach solicitors for Walsall claims. To do this, we'll review what harm could be caused by data security incidents. Additionally, we'll review what types of data breaches can occur. Finally, we'll look at the level of data breach compensation that could be paid if your claim is successful.
If an avoidable data breach has caused you to suffer due to stress, anxiety or depression, you could be eligible to claim. Furthermore, any financial losses could also be claimed for as well.
If you think of any questions while reading, please use live chat to connect with one of our advisors.

What Qualifies As A Data Breach?
Before considering whether you could use one of our data breach solicitors for your Walsall claim, it's important to define what personal data breaches are. According to the ICO, they are security incidents where personal data is destroyed, lost, disclosed, accessed or changed without a lawful basis. This can be the result of accidental or deliberate actions.
Not all data breaches mean you should be compensated though. Claims are only possible if the party responsible for your data failed to protect it properly. For example, you may be able to claim if documentation containing your personal information found its way into the public domain because it wasn't securely shredded when it'd been finished with.
In addition to proving some level of responsibility, you'll need to prove that the breach caused you to suffer. Two forms of suffering could result in a claim. Firstly, a breach that caused you to suffer a psychological injury could result in a claim. Secondly, if a breach causes you to suffer financially, you could also be eligible to take action.
If you would like to check whether you've got grounds to seek data breach compensation, why not call us today?

How Could Your Data Privacy Have Been Breached?
While data breaches can occur because of criminal activity, they also occur because of human error. Failure to follow the UK GDPR's rules could result in a personal data breach that might result in a claim. Some examples of personal data breaches could include:
If a laptop that's not been encrypted is left on a train (or any other insecure location).
Where staff are overheard discussing an identifiable individual in a public area.
If personal data is not redacted before a report is published.
An email data breach occurs when an email containing personal information is sent to the wrong recipient.
Where letters are posted to the wrong address.
If computer screens containing personal data can be read through windows or from public areas.
Where a company's IT security is out of date and allows a cyberattack to take place that exposes personal data.
Why not check whether you could use our data breach solicitors for your Walsall claim by calling today?

Are Data Breaches Becoming More Frequent?
The rules of the UK GDPR mean that organisations must report some data security incidents to the ICO. Therefore, we've produced the graph below showing the number of cybersecurity incidents reported in quarter 2 of 2021/22.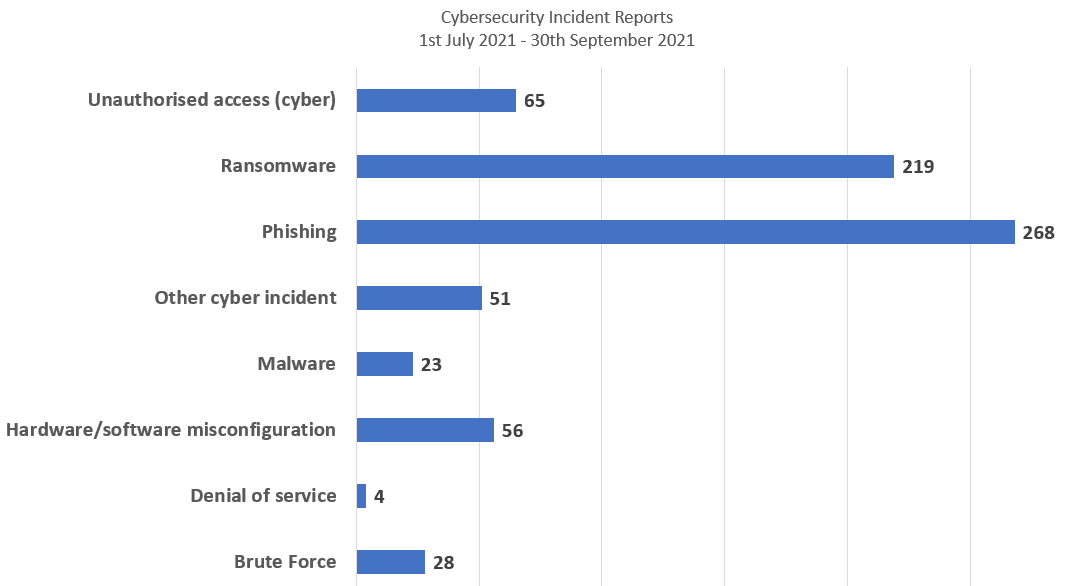 Please call to check if you could use our data breach solicitors for your Walsall claim
Do I Need To Claim With A Data Breach Solicitor In Walsall?
There's no need to choose a local law firm to support your potential Walsall data breach claim. Our solicitors can cover the area and help you too. If you call our advice centre, your case will be reviewed and you could be connected with a specialist solicitor. If they agree to represent you, they could negotiate directly with the defendant to try and reach an amicable settlement.
One of the key things you'll need to prove in a data breach claim is that the incident took place. Also, you'll need to show how the organisation you're claiming against had some responsibility for the personal data breach.
The easiest way to do this is with a letter or email from the company. By law, they must write to you if they find out about a data breach that affects your rights. However, if you've not received any correspondence, you could:
Formally complain to the company. You should explain that you suspect they've been involved in a breach and your data has been exposed.
Take the complaint higher if you don't agree with the response. Any escalation paths should usually be detailed in the response.
Ask the ICO to investigate. You should do this within 3-months since the last update about your complaint.
The ICO won't be able to award compensation to you, but their report could help to prove what happened. For free advice on what steps you should take, please call our advice line today.

Calculating How Much Data Breach Solicitors For Walsall Could Help You Claim
Under the rules of the UK GDPR, compensation can be sought for:
Financial harm. Known as material damages, you could claim for expenses, costs or monetary losses caused by the breach.
Psychological harm. This part of your claim could cover any mental harm that's been caused by the breach. Examples here include Post-Traumatic Stress Disorder (PTSD), distress and anxiety.
In the compensation table that follows, we've listed some figures for some different injuries (non-material damages). When legal professionals calculate compensation, they may refer to the Judicial College guidelines. Therefore, we've used the same data in our table.
| Type of Claim | Severity | Range Of Compensation | Additional Information Based On JCG notes. |
| --- | --- | --- | --- |
| Post-Traumatic Stress Disorder | Severe (a) | £56,180 to £94,470 | The claimant could suffer with permanent symptoms of PTSD. |
| Post-Traumatic Stress Disorder | Moderately Severe (b) | £21,730 to £56,180 | Significant suffering caused by PTSD but with some improvements possible following specialist support. |
| Post-Traumatic Stress Disorder | Moderate (c) | £7,680 to £21,730 | In this case, the claimant will almost fully recovered from the symptoms of PTSD. |
| Mental Harm | | | Based on: A) How the claimant can cope domestically and professionally; B) Relationship issues; C) Where treatment will help the claimant; D) Future vulnerability; E) Future Prognosis. |
| Mental Harm | Severe (a) | £51,460 to £108,620 | Serious problems with all factors and a very poor prognosis. |
| Mental Harm | Moderately Severe (b) | £17,900 to £51,460 | Initial significant problems with all factors but a more optimistic prognosis. |
| Mental Harm | Moderate (c) | £5,500 to £17,900 | A good prognosis because of a lot of recovery that's already occurred. |
The main factor used to determine non-material damages is the severity of your injuries. To help establish this, an independent medical assessment may be required in data breach claims. Our solicitors can usually book a local appointment so you don't need to travel too far.
During the appointment, a medical specialist will talk to you about your suffering. They'll try to find out how the data breach has impacted your mental health. They might also look through your medical records. Once finished, a report detailing your injuries and prognosis will be produced. This will be forwarded to all parties associated with the claim.

What Are The Benefits Of No Win No Fee Agreements?
If you're concerned about upfront solicitor fees then if you want legal representation why not opt for No Win No Fee data breach solicitors for Walsall claims. There is nothing to pay upfront and our solicitors provide a No Win No Fee service for accepted claims. As a result, you'll find the process less stressful knowing you won't pay your solicitor if you're not compensated.
Before a data breach solicitor can offer this service, they'll need to check that:
A personal data breach has occurred.
The incident only happened because of the defendant's actions or inaction.
As a result of the data breach, you have suffered psychological and/or financial harm.
Additionally, they'll want to verify that your claim is being made within the applicable time limits. These are defined by the Limitation Act 1980. In some cases, you'll have 6-years to begin. However, some data breach claims have a 1-year time limit. Therefore, our advice is to contact us quickly to check how long is left for you to take action.
If the solicitor agrees to work on your case, they'll send you a Conditional Fee Agreement (CFA). This is the type of No Win No Fee agreement they use for data protection breach claims.
The CFA will explain that no solicitor's fees need to be paid if you are not compensated. It will also provide details of the success fee you'll pay if your case is won. This is a percentage of your compensation that will be deducted by your solicitor. By law, success fees are capped so that you can't be overcharged.

Get Help From A Data Breach Solicitor For Walsall
We are almost at the end of this guide on data breach solicitors for Walsall claims. If you are thinking about taking action with Legal Expert on your side, you can:
Finally, why not visit our reviews page to read what previous clients have said about us?

Useful Resources
Is Consent Needed? – ICO advice on if organisations need permission to process your personal data..
Complain To The ICO – This page provides details of the types of issues you can raise with the ICO.
What Could Be A Walsall Council Data Breach? – Explains if you could claim against a council if you've suffered because of a personal data breach.
What Was The Blackbaud Data Breach? – Information on a breach that affected numerous organisations across the world.
Lost Medical Records – Explains the consequences that could materialise if medical records go missing.
Thanks for reading our guide on data breach solicitors for Walsall claims.
Guide By Hambridge
Edited By Melissa.