Sandwell Data Breach Solicitors – Expert Claims Support
This guide will illustrate how data breach solicitors for Sandwell compensation claims could offer to support you on a No Win No Fee basis. When an organisation collects our data, we trust them to protect it. A data controller is generally an organisation or party that handles your personal information. Whereas a data subject is a person whose information is handled. A data breach can happen if a data controller failed to adequately protect this information. However, they can also happen and the data controller not be liable.
To be eligible to file a data breach compensation claim the onus is on the data subject to prove that the personal data breach occurred because the organisation failed to take the correct steps to secure the data. If you suffer a breach of personal information you could claim financial losses and/or emotional distress as a result.
Call our advisors for free legal advice. In a no obligation consultation they can go through all aspects of your case. If they can see your claim has a good chance of success they will put you through to our data breach solicitors. Any claim that is taken on will be managed on a No Win No Fee basis. Our skilled legal team have solid experience handling data breach claims and have helped many people just like you get the compensation they deserve. For free claim advice, please contact us as soon as possible.
Select A Section
An Overview Of Data Breach Solicitors For Sandwell
This guide is intended to examine how data breach solicitors for Sandwell compensation claims can help those affected by a personal data breach receive compensation. Lots of organisations can be considered data controllers as they collect and process personal data so that they can offer services. Local authorities collect personal data every day so that service users can access what they need. If a Sandwell Council data breach occurred would you know what action was needed? This guide will show you what steps may be appropriate if you become the victim of a data breach.
In this guide, we will explain how to claim data breach compensation. It will look at what data protection laws are practised in the UK. Below you will be advised on what to do if your data has been breached. Explanations of how to find a data protection breach solicitor to handle your claim will be provided. How much compensation you can get for a GDPR data breach will be examined. Please get in touch with Legal Expert if you have any questions at all about the information contained in this guide.
Data Breach Claim Time Limits
In the UK, the Limitation Act 1980 states that data breach claims must be started in six years. However, if a data breach involves a public body you may have just one year to begin your case. Call our team so that you do not miss out on your chance to claim compensation.
What Are Breaches Of The Data Protection Act?
During 2018, the European Union introduced the EU GDPR. The United Kingdom enacted this into UK law through the Data Protection Act 2018. However, after the withdrawal process when the UK left the rulings of the EU they updated the Data Protection Act 2018 and compiled their own version introducing the UK GDPR.
A data breach is a security incident that means the following has happened to personal data;
Lost data
Stolen data
Destroyed data
Altered data
Unauthorised persons gain access to the data
These can be done accidentally or deliberately but what is important is that for a data breach they will be done without a lawful basis.
Under the GDPR, organisations are responsible for safeguarding the personal data they collect from the public. Organisations are supposed to invest in systems to protect their databases. For example, they train employees to handle data safely and have an up-to-date cybersecurity system to protect against cyberattacks.
Therefore if a breach of data protection occurs because the organisation did not take steps to protect personal data, you could claim compensation for a GDPR data breach. A GDPR data breach solicitor can value your claim accurately and negotiate with the defence to win the maximum amount of compensation you can claim.
What Could Cause A Data Breach?
We will now look at the potential scenarios of data breaches in Sandwell.
A letter containing personal information is sent to the wrong address.
Employer data breaches can take place if employers disclose personal information about employees without a lawful basis.
A local authority may publish a case study about vulnerable people in the care of social services. But the people's names are not redacted, causing a social services data breach.
A university sends a mass email to students but does not put the email addresses in the Bcc bar. Therefore an email data breach could occur.
A hospital disposes of patient medical records in an insecure manner. So, unauthorised persons could access the patient's medical records.
An employee at an insurance company loses a device with customer information on it, such as a laptop. Unfortunately, a third party could find the laptop and use it to access private customer information.
A receptionist at a GP surgery could leave private medical files on a public-facing desk. So, other patients would be able to see confidential medical information.
Please get in touch with Legal Expert if you have experienced a data breach and wish to claim compensation. We can provide you with a skilled data breach solicitor for Sandwell and the surrounding area.
Has A Sandwell Council Data Breach Occurred?
A Freedom of Information request has found that between 2014 – 2019, there were 499 data breaches at Sandwell Council. The council considered many of these data breaches as low level. The council did not receive any endorsements for these data breaches.
Source: https://www.expressandstar.com/news/local-hubs/sandwell/2019/01/29/500-data-breaches-at-sandwell-council-in-past-five-years/
Please get in touch with Legal Expert today. We can provide you with a data breach claims solicitor to help you claim compensation.
How Common Are Breaches Of Data Protection?
The Information Commissioner's Office received 9,483 reports of data security incidents during the financial year 2020/2021. 2,697 of these incidents were cyber security incidents.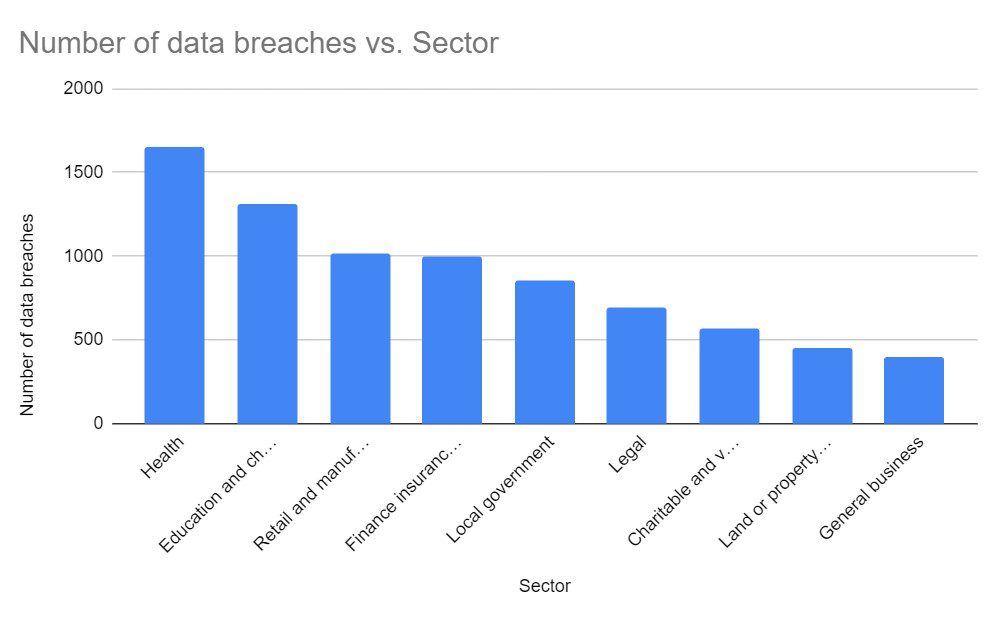 Numbers are taken from the ICO's data security incident trends.
What Can I Do If I Suspect An Organisation Has Breached My Data Privacy?
Sometimes you will be notified by an organisation if they have breached your data privacy. If an organisation discovers a breach of data protection, it should notify the ICO within 72 hours. However, they should inform those who have been affected without undue delay.  Please keep your notification message, as your data breach solicitor for Sandwell may be able to use this as evidence.
If you have discovered that an organisation has breached your data, the ICO advise you to complain to the organisation. The data protection team may be able to resolve the matter internally.
What should you do if you are not happy with the response you receive?
You can report the data breach to the ICO. They have the power to fine organisations for data breaches. However, the Information Commissioner's Office usually won't investigate a data breach incident if more than 3 months have passed since contact with the data controller.
How Much Compensation Could You Receive
If your data has been breached you may have suffered in different ways. You might be very depressed if particularly sensitive information is breached. In extreme situations, a data breach can put a person in danger. Therefore experiencing a data breach can cause stress, anxiety and depression. In some cases, the data breach victim may experience post-traumatic stress disorder.
Unfortunately, being the victim of a data breach can also have financial consequences. If criminals obtain your data, they may use it to target you for scams. As a result, you could lose money or other assets.
If your data breach compensation claim is successful, you can receive up to two heads of claim:
Material damages: compensates for money lost due to the data breach.
Non-material damages: these are compensation for any emotional distress or psychiatric injuries caused by the data breach.
You may be wondering, "How much compensation can you get for a GDPR data breach?". The amount of material damages compensation that is awarded can vary greatly from person to person. Our claims advisors can let you know how much you can claim based on the financial losses you have experienced.
However, in our table below are compensation brackets that have been awarded in past court cases for mental harm caused by a personal injury. The bracket figures are based on guidelines from the Judicial College. But how much money you will receive depends on the circumstances of your case.
| Effect On Mental Health | About | Potential Settlement |
| --- | --- | --- |
| Psychiatric Injury - Severe | Injured parties could have marked problems or difficulties in employment, education and social relationships. Their prognosis for recovery is poor. | Up to £108,620 |
| Psychiatric Injury - Moderately Severe | Again the victim could have a significant difficulty with education, employment or social relationships. Their prognosis for recovering is more optimistic. | Up to £51,460 |
| Psychiatric Injury - Moderate | Those harmed could have experienced similar problems those above. However, these issues will be to a lesser degree and marked improvements have been made by the time of trial. | Up to £17,900 |
| Psychiatric Injury - Less Severe | This person has a much better potential outlook for recovery. | Up to £5,500 |
| PTSD Severe | All aspects of this person's life may have been impacted by this trauma. They might not be able to continue with education, in employment or function to the same degree as they did prior to the trauma. | Up to £94,470 |
| PTSD Moderately Severe | Whilst the victim could have suffered from a disability due to this trauma, the person also has a better chance to recover if they are given professional help. | Up to £56,180 |
| PTSD Moderate | Victims should have generally recovered from the injury and lingering symptoms should not be grossly disabling. | Up to £21,730 |
| PTSD Less Severe | A full recovery should be made in one to two years. | Up to £7,680 |
What Is A No Win No Fee Agreement With Data Breach Solicitors For Sandwell?
Some data breach solicitors offer No Win No Fee claims. If you fund your solicitor with a No Win No Fee agreement, you will not pay an upfront solicitors fee. Instead, you will pay your solicitor a success fee on the condition that they win your claim. You will sign a Conditional Fee Agreement to formalise this.
The advantages of making a No Win No Fee claim include the following:
You don't have to pay an upfront solicitors fee. Therefore, there are fewer expenses to pay upfront when you claim.
Your solicitor will deduct your success fee from your compensation payout. The fee is legally capped to keep costs under control.
What's more, the majority of the compensation payout goes directly to you.
And you don't pay a success fee if you do not win. So this method of claiming involves less financial risk.
You can learn more about making a No Win No Fee claim by reading our online guide.
Discuss Your Claim With Data Breach Solicitors For Sandwell
If you are a Sandwell resident whose personal data was breached, Legal Expert can help you. We can provide you with a data breach solicitor covering Sandwell to manage your claim. What are the advantages of working with a No Win No Fee solicitor?
Firstly, we are trusted. Would you please read our online reviews to see what our previous clients thought?
Secondly, we are diligent. We will assess your claim in-depth before we begin working on it. Therefore, we can make sure you receive the right amount of compensation.
And finally, we are affordable. You can fund your claim as a No Win No Fee case and not have to pay an upfront fee.
Our legal team have solid experience handling claims for compensation for a data breach under the GDPR. So please get in touch with us today to begin your claim.
Call our claims helpline today on 0800 073 8804 to speak with an advisor. Or chat with an advisor using the widget on the bottom right-hand side of your browser.
Alternatively, you can write to us via Legal.Expert.co.uk.
We are looking forward to hearing from you.
Find Out More About Claiming With Data Breach Solicitors For Sandwell
We hope that this guide to finding data breach solicitors covering Sandwell has been helpful. If you would like to learn more about claiming compensation for a data breach under the GDPR, please feel free to read these guides.
Housing Association Data Breach Compensation Claims Guide – How Much Compensation Can I Claim? – A guide to claiming compensation if a housing association has breached your data.
Medical Data Breach Compensation Claims Guide – How Much Compensation Can I Claim? – A guide to claiming compensation if a GP, hospital or pharmacy may have exposed your data.
My Personal Data Has Been Lost After A Breach; what Are My Rights? – Information and advice about your rights after a data breach.
A government guide to the individual rights of data subjects with regards to data protection.
The ICO provide infornation on breaches of data protection.
Information about protecting yourself from phishing and online scams from the UK government.
We appreciate you taking the time to read our guide on data breach solicitors for Sandwell.