£55,000 Compensation For A Ankle Fracture Work Accident Claim
The panel of specialist workplace injury solicitors at Legal Expert have successfully claimed compensation for people who have suffered a workplace ankle fracture, getting them the damages they deserve from employers across the country.
In this case study, we examine a work accident claim where a carpenter suffered a fractured ankle after falling from a ladder whilst at work. The claimant was working at height, using a ladder where there were no stairs. The ladder was resting on a piece of wood flooring which was removed by another employee. The man fell several feet into an exposed hole. Our case study will also look at examples of the types of injuries which can be sustained and the amounts of damages people can expect to be awarded. Due to the severity of the injuries sustained, solicitors working on this case were able to secure damages totalling £55,000 in this case.
How Common Are Workplace Ankle Fracture Claims?
Perhaps the most important part of ankle fracture at work injuries is their severity. Whilst they can seem like a simple injury, an ankle fracture can be a life-changing event for claimants. In many cases, a fractured ankle can lead to permanent changes in a person's work status. In the developed world, ankle fractures are one of the most common workplace orthopaedic injuries. They very often lead to reduced functionality in that ankle and leg as a whole. They can lead to long-term disabilities and changes in employment status.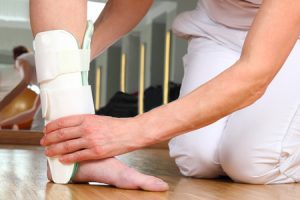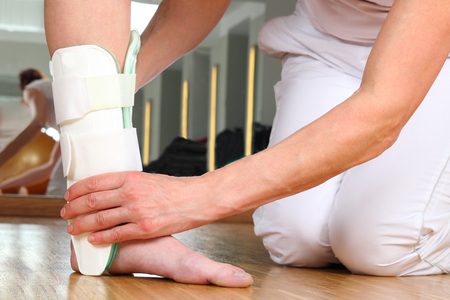 The total number of ankle fractures in the UK account for around 9% of all broken or fractured bone injuries in the UK each year. Workplace ankle fracture injuries can happen due to faulty equipment, poor working practices or insufficient training in Health & Safety or PPE, and negligence. Workers compensation for an ankle injury in the UK can vary depending on the nature and severity of the accident as well as how bad the injury is, and what the long-term consequences will be. If you have broken or fractured your ankle at work, see our ankle injury compensation calculator.
Establishing Liability In A Workplace Ankle Fracture Compensation Case
In order to make a successful claim against your employer after a workplace ankle fracture, you need to establish that your employer is liable in some way for the accident. In the UK there are a lot of different health safety laws and regulations which are designed to protect people in the workplace. UK laws are also reinforced by various European Laws as well. If you have had an accident at work and need to make a workplace ankle fracture (provided you can show the employer is responsible), you will have a good chance of making a successful compensation claim. There are several ways your employer can be shown to be legally responsible for a workplace injury. These are through overall employer negligence, a breach of health and safety law, manual handling regulations, through your employment contract and through occupiers liability.
In this case, solicitors alleged that the employer was negligent, and that they had breached their duty of care to provide staff with a safe working environment. The claimant was injured as a direct result of this negligent behaviour. The claim also alleged that the claimant would have lasting symptoms and would restrict their ability to work.
A Guide To Workplace Ankle Fracture Injuries
In this case, the injuries were sustained whilst the claimant was working as a carpenter. Whilst they were climbing a ladder, another employee removed a plank of wood which was functioning as a part of the lower floor the ladder was resting on. This caused the ladder to slip and the claimant to fall, their right ankle landing in a hole. The claimant immediately felt severe pain in his ankle and foot. The claimant was taken to A&E. After an x-ray, soft tissue damage was diagnosed. The claimant lower leg was put into plaster and they were told not to put weight on it for two weeks. After this, the cast was removed and a rigid walking boot was used.
Two weeks after this the claimant still suffered pain in the ankle and they had restricted mobility. At this stage, a further CT scan and x-ray diagnosed a nonunion, medial malleolar fracture. The claimant needed surgery to repair the fracture. The leg and ankle were put into plaster for a period of six months. During this time the claimant could not place weight on the ankle and had to use crutches when walking. Further treatment involved surgery to remove the plate and screws as well as physiotherapy. Longer term symptoms included disturbed sleep due to foot pain. They could not drive long distances and their social life was very much restricted. Walking was painful and they had a limp. These symptoms were estimated to be permanent. Before the accident, the claimant had been self-employed as a carpenter. After the accident, they were unable to return to work as a carpenter.
Ankle Injury Compensation Amounts
Ankle injury compensation amounts will vary between claimants and cases. The more serious the injury to an ankle, the higher the workers' compensation settlement for broken ankle will be. Ankle injury settlement amounts include general damages and special damages. In the case of the carpenter, liability was admitted and the case did not have to go to court. The broken ankle compensation payout included £10,000 for pain and loss of amenity. A further £42,500 was awarded for loss of earnings. A final £2,500 was awarded for miscellaneous costs such as travel costs, prescriptions and expenses.
Common Accidents Leading To Workplace Ankle Fractures Compensation Claims
Workplace ankle injuries can be a common type of injury. They can be caused by many reasons, though the leading cause of them is slips, trips and falls. The primary cause of those falls is a poorly maintained floor or badly placed object which causes a trip. Health and Safety laws set out a duty of care for employers to keep pathways through a workplace clear. Failure to follow these guidelines can establish liability.
No win No Fee Workplace Ankle Fracture Claims
No win no fee compensation for ankle ligament damage or fracture helps people to make a claim when they would not ordinarily be able to do so. No win no fee claims help millions of people across the UK to claim the damages which they are entitled to. Using no win no fee you don't have to pay anything upfront or in your case. If you win your claim, we are paid as part of the settlement. If not, there are no fees.
Call Us For Free Advice
To find out more about workplace ankle fractures and injuries, talk to the legal specialists at Legal Expert today. We will connect you with one of our panel of personal injury specialists. Talk to our specialist legal solicitors today on 0800 073 8804, email us or use the chat feature on this page. Talk to us today.
Useful Links
Broken Ankle Injury Compensation
What's a broken ankle worth? Find out with our ankle injury compensation calculator.
Slip, Trip, Compensation
Compensation for ankle ligament damage caused by a slip, trip or fall.
How Much Compensation Can I Claim For An Accident At Work?
Find out the compensation amounts you can claim for an accident at work.